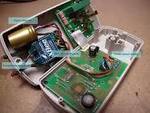 DIY Guitar Effects
Pedals, effects and other cool projects related to guitar effects
This classic DIY pedal is the Stratoblaster, a simple and effective booster. It is perfect to drive a tube amp or give presence to the solos. At high boost levels, it will give a nice and warm saturation.
With this charge pump you can have -9V and +18V from a +9V voltage source.
The Rangemaster is the most classic treble booster from the 60s, used by Eric Clapton or Brian May. This pedal produces a brighter tone and adds color to the signal.