Featured Product: ADXL335 3 Axis Accelerometer
Featured Product: ADXL335 3 Axis Accelerometer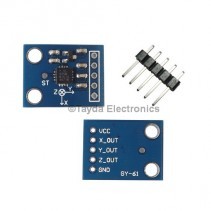 The ADXL335 is three axis accelerometer. It's inexpensive but powerful and gives you accelerations in the X, Y, and Z directions based on the orientation of this accelerometer.
The ADXL335 is super small and easily integrates into anything that moves! I have seen ADXL's integrated into robots, dog tracking collars, bikes, and cars. They use little power and are extremely easy to use.
This is an analog sensor. The voltage output is proportional to the acceleration. The theory behind analog capacitors is quite simple. Since the only things that are needed to make a capacitor are two conductors seperated by an insulator, an accelerometer suspends a capacitor on springs. As the accelerometer moves around the springs allow the conductor to move in three directions. As this conductor moves around and flexes the capacitance changes. That capacitance is proportional to the acceleration and the voltage is adjusted.
Here is an image that shows how the capacitance is able to change. Thanks for Sensors Magazine for the great image.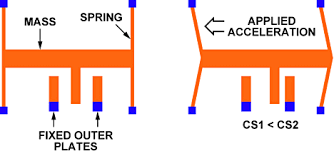 This image shows the tiny complicated structure of a MEMS accelerometer. The structure is delicate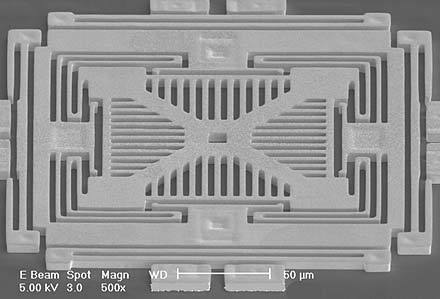 The ADXL335 has a lot of support and is compatible with anything that is capable of inputting an analog signal. This includes any Arduino, the ESP8266 Wifi Module, a Raspberry Pi, any many other options.
The ADXL335 has no onboard power regulator but takes in an input of 1.8V to 3.3V power consumption is tiny at 320 uA. The sensor has a range of +- 3g.
For the price the ADXL 335 is an unbelievable sensor. Easy to use, and easy on the pocket the ADXL335 is your solution for all of your accelerometer needs.
Check out the ADXL335 Accelerometer at Tayda Electronics here.
Let us know what you have built and worked on with an ADXL335 below! We can't wait to see what you guys build with the ADXL335.