3rd Brake Light Flasher
Create a 3rd brake light kit to power an LED matrix
---
Steps
---
Categories
Created by
Alexi
Status:
Active
3rd Brake Light Flasher
Step 1 of 1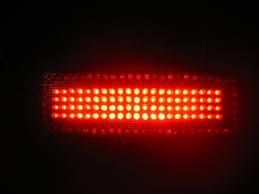 Have your 3rd brake light be the attention getter for the other drivers day dreaming and talking on their cell phones. Flashes 4 times before going steady on. Re-sets immediately on applied power to start the flashing cycle again. Uses your existing brake light power so hook-up is simple with 3 wires, 1 ground, 1 from brake light switch or wire, and 1 going to 3rd brake light. Handles up to 8 amps with provided fuse. Learn the real assembly as it is up to you to layout your parts on the preformatted board.
Schematics and parts are included to complete this project, along with a quick reference guide for parts polarity and the likes. Experiment with layouts; try different ones that may be a better method. Keep parts lengths short, and watch for shorts.
---