New TaydaKits Features Launched.
New TaydaKits Features Launched.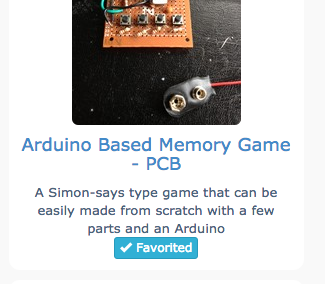 We are excited to annouce the launch several new features on the Taydakits Instruction Center. It has been awhile since we have done any new work on Taydakits Instruction Center. Frankly, we have been so busy with the increasing demand for new products and keeping inventory in-stock on TaydaElectonics.com that we have put much of the Instruction Center on hold. Fortunately, we have been lucky enough to find a number talented and motivated staff and workers to help us increase our capacity and to move Taydakits to the next level. We want to be able to provide the highest quality of service and support, and at the same time give you the user the best experience we can provide. We hope you find the new features useful.
The new features:
Add to Favorites - Saves your favorite projects to your favorites list
Improved User Profile

Added Social links to Github, Facebook, Hackster.io and Hackaday.io
Added Profile Bio
Added Gravatar image option
Added user stats
Added Favorited, and published instruction carousels
Added Parts Bin - a list of products used in current published instructions

New Blog portal. We will be adding more features to this portal in the weeks to come.
Automatically adds Forum Topic for any newly approved Instruction to give user a more thorough experience with the instructions posted.
Improved Forum functions - Allows us to more quickly answer your questions in the forum
Added general site improvements to improve speed and experience.
Enjoy and Thank you for supporting TaydaElectronics.com.